Home buyers got some great news at start of March with the new stress test to qualify for mortgages and the .5% decrease in rates from the Bank of Canada.  These two factors combine to allow more people to enter the real estate market and to see an increase of up to 5% in their purchasing power.  This March could be a great time to finally get into that home or condo that was just out of reach last month. 
For sellers this is good news too.  With inventory at record lows,  homebuyers on the Sunshine Coast are now starting to find themselves in competition with other buyers and home sellers have been able to receive multiple offers, especially for homes affordably priced between $500,000-$600,000.  This increased competition for current inventory has resulted in sellers being able to get offers that are much closer to their asking price as the gap between the list and the sale price narrowed by 3% in February.   For a $500,000 home, this could translate to $15,000 more for the seller! 
In February,  overall the Sunshine Coast saw a balanced market for both condos with 8 sales and 62 listings and single family homes with 31 sales and 279 listings, while townhomes were firmly in a buyers market with 2 sales and 67 listings.  The overall HPI Benchmark price was down 7.8% to $561,100 from Feb 2019,  however the Median Sales Price increased 1% up to $560,000. 
 A closer look at the local areas revealed how each region experienced differences in the real estate market. While most of the Sunshine Coast maintained a balanced market, Gibsons experienced a very active February.  In the single family homes category,  12 out of all 31 sales occurred in Gibsons. This puts Gibsons nearly into sellers market at a 19.35% Sales to Actives ratio.   The condo market, mirrored this trend, with 6 out of all 8 sales occurring in Gibsons and putting Gibsons firmly into a sellers market at a 21.4% Sales to Actives ratio.  Sellers in Gibsons considering when to put their homes on the market could be well poised to benefit from listing their homes this March. 
Sechelt, while having had 9 single family home sales, had more inventory than Gibsons (117 listings vs 62) which resulted in a buyers market.  For buyers looking to still capitalize on a recovering market, Sechelt offers some great opportunities.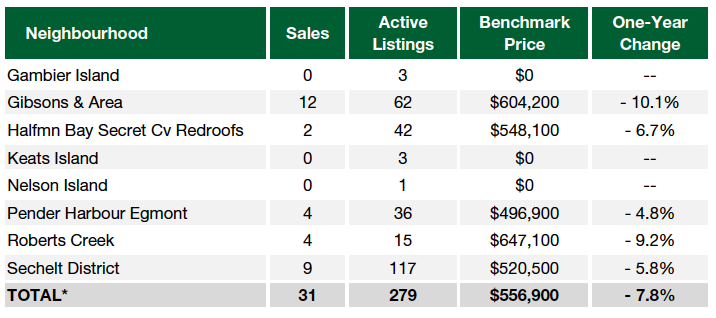 To find out what your home is worth in today's market, contact 
Janai York
 for your Free Home Evaluation.