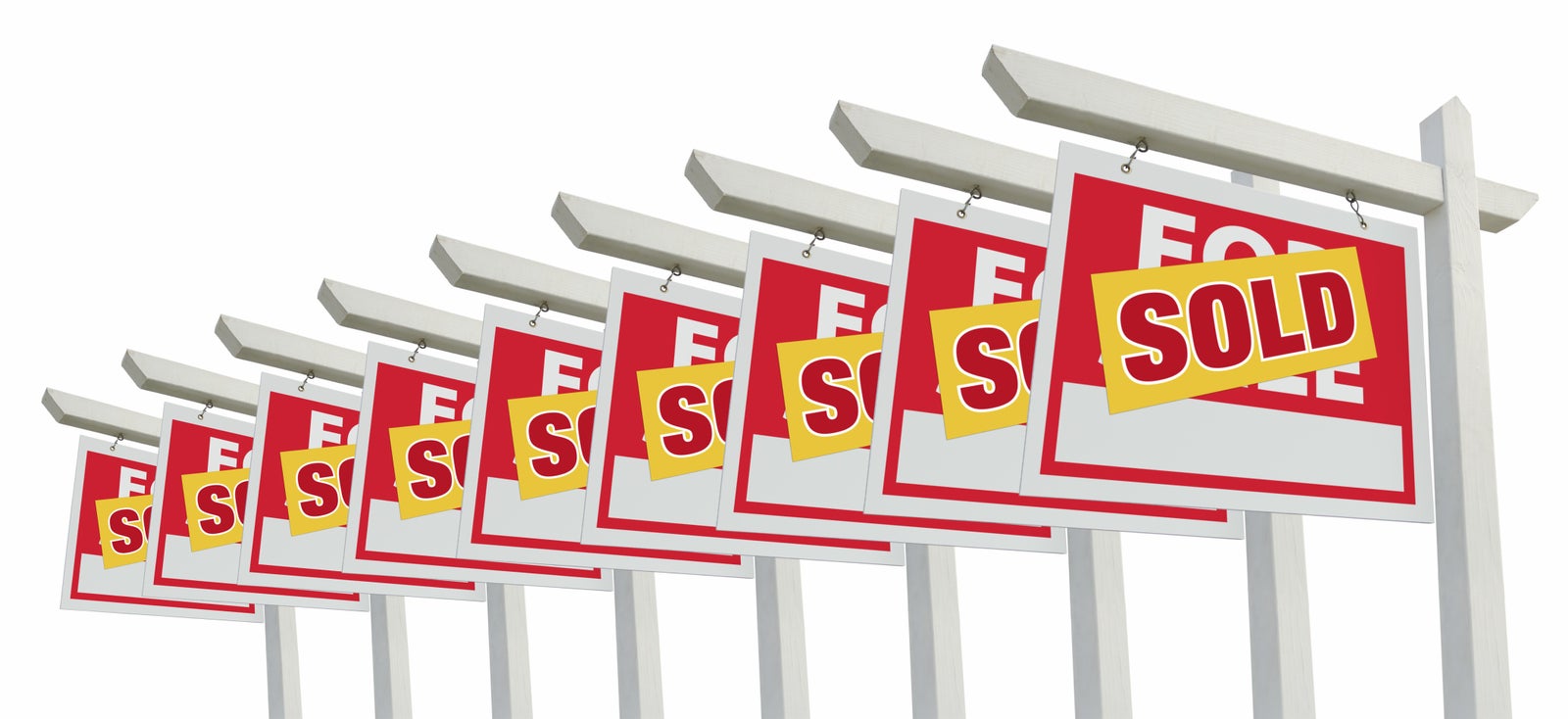 The summer real estate market is typically busy on the Sunshine Coast as vacationers come and decide to stay.  As the weather starts to cool, the real estate market tends to follow.   This September, we continued to see record breaking sales across all areas, with 125 sales, up 119% from 57 the year prior.  With sales continuing to outpace new listings (116 vs 82 in last September) prices continued to increase as well with the median sales price up 5.2% to $657,000. 
The appeal of Sunshine Coast's laid back atmosphere, beautiful beaches and stunning natural amenities continues to be a big draw for people looking  to escape from the city and get more bang for their buck.    With Greater Vancouver's real estate market on a strong upswing
(see this video for the most recent market update)
, sellers from the Lower Mainland are turning to the Sunshine Coast as a destination of choice for both vacation homes and to start a new lifestyle where they can still easily commute as needed while enjoying more space and larger homes then they could afford in their current locations.    
As we reach the mid-point in October, these trends show no sign of stopping.  Couple the high demand with ongoing historically low inventory and it looks like the Sunshine Coast will remain as a sellers market for the next foreseeable future.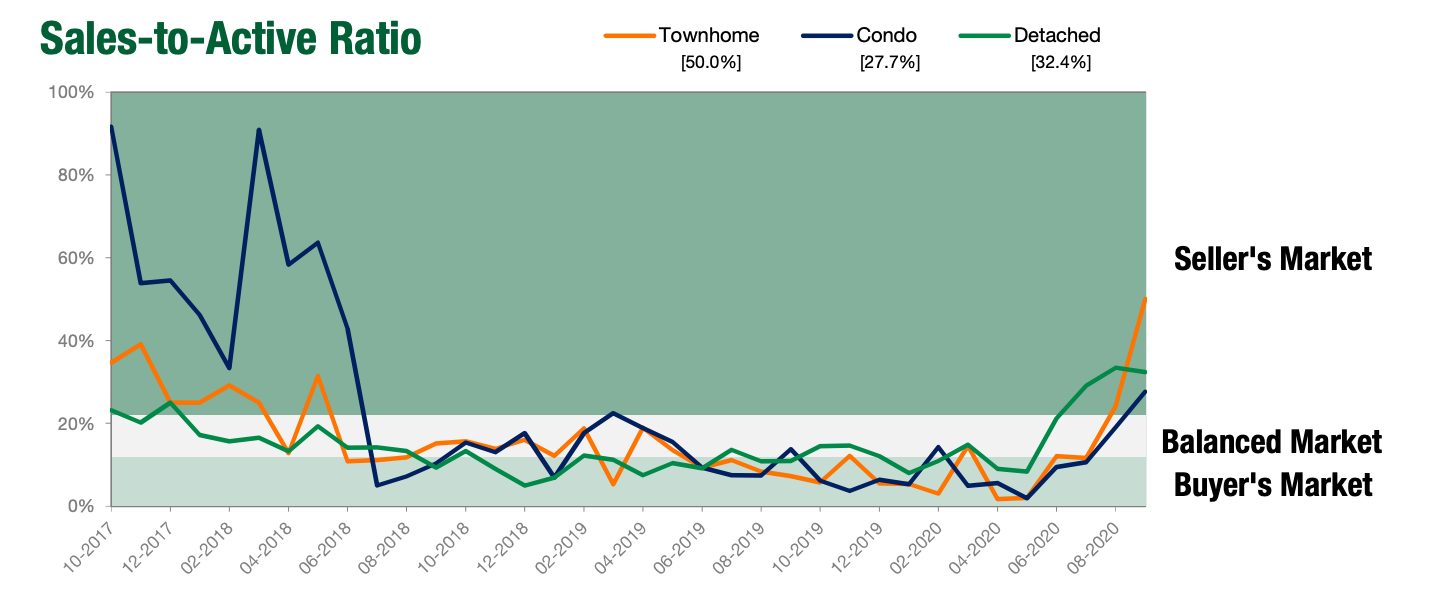 Gibsons had the highest price increase in September, with increases of over 10% from last year, as well as having the highest average home prices of $716,500.   Halfmoon Bay now has the 2nd highest average home prices, followed by Sechelt, then Pender Harbour.  Click on the image below for an interactive price change over time.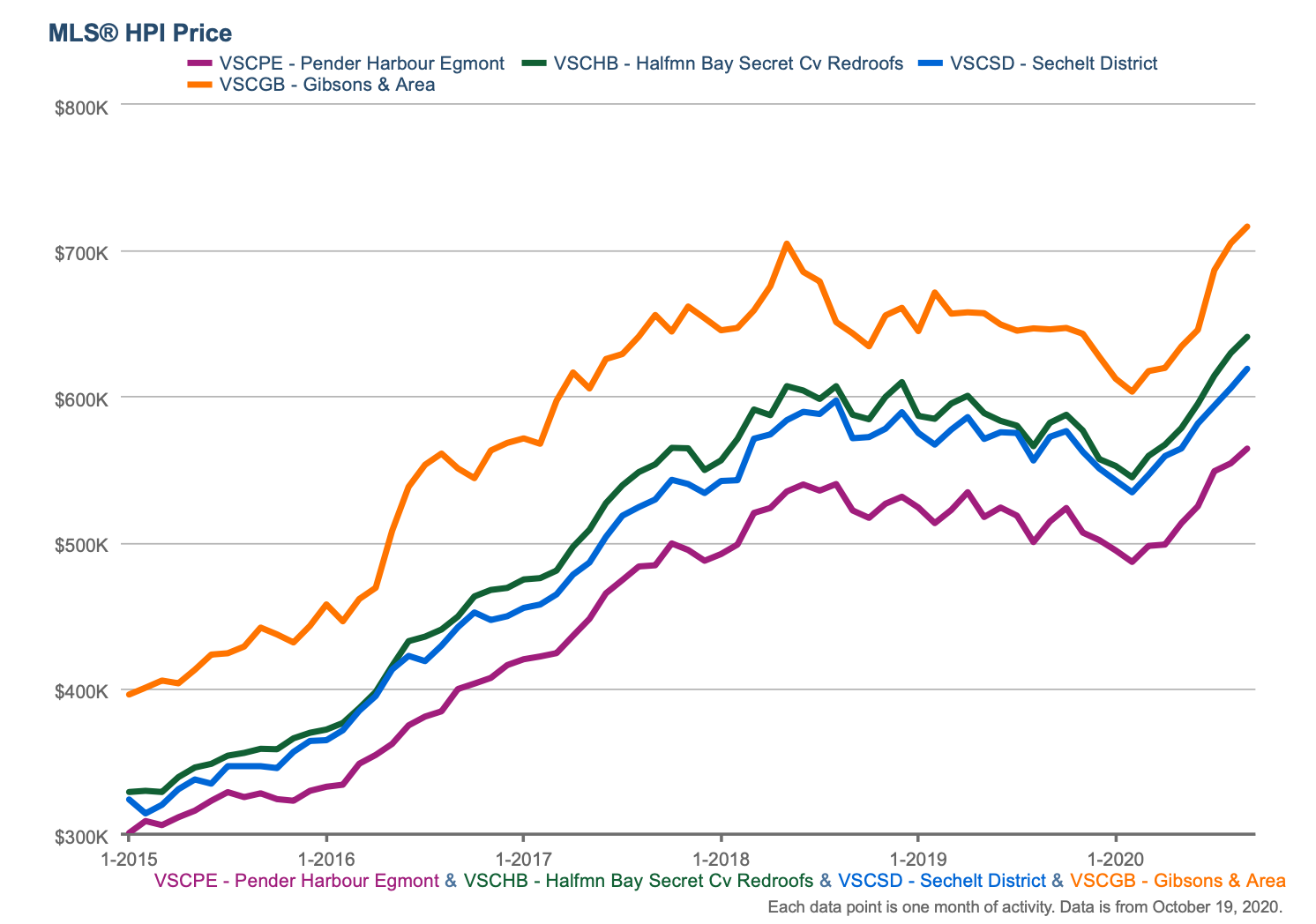 Single family homes in the $500,000 - $800,000 price range were by far the most popular properties, with sales up 182% over last year,  the highest sales to listings ratio at 50% and the biggest drop in days on market to 36 days (down 68.4%).    
This cute 3 BR home with 1 BR suite listed at $549,000, sold for asking price a mere 2 days after being listed.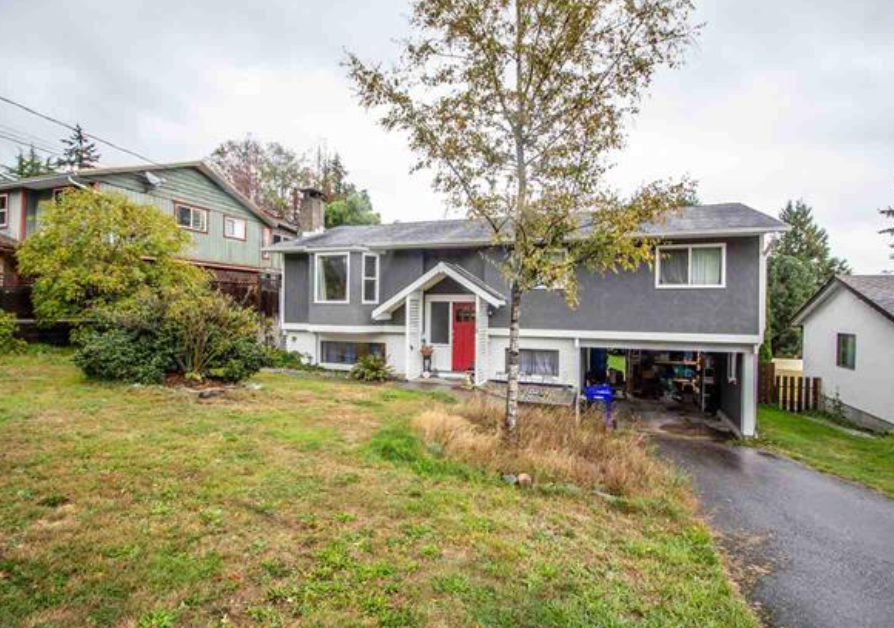 The luxury home market also enticed buyers from outside the Sunshine Coast to find their personal slice of heaven.  16 homes $1,000,000 + sold in September (up 45.5% from last year) and another 20 have sold so far this October!   The most expensive condo sale was over $1,300,000 for a spectacular ground level 1655 sq ft 3 BR in the Eagleview Heights development located on a bluff with sweeping ocean views in Gibsons.   The most expensive home sale at was over $3,500,000 for an incredible waterfront estate on exclusive Beach Ave in Roberts Creek.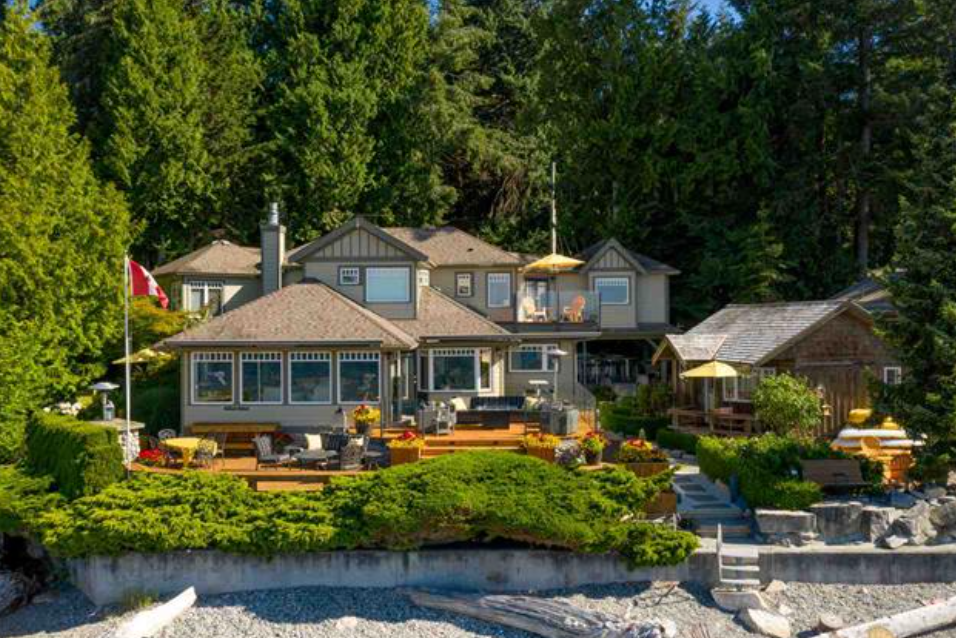 Sechelt was the busiest market with the highest amount of sales, up 185%  from 2019 with 57 homes sold in September. This trend continues with Sechelt showing another 37 sales so far in October.  Gibsons was the next busiest market up 106% with 33 homes sold, then Halfmoon Bay, up 71.4% with 12 sales.   Click on the graph below for the interactive sales over time.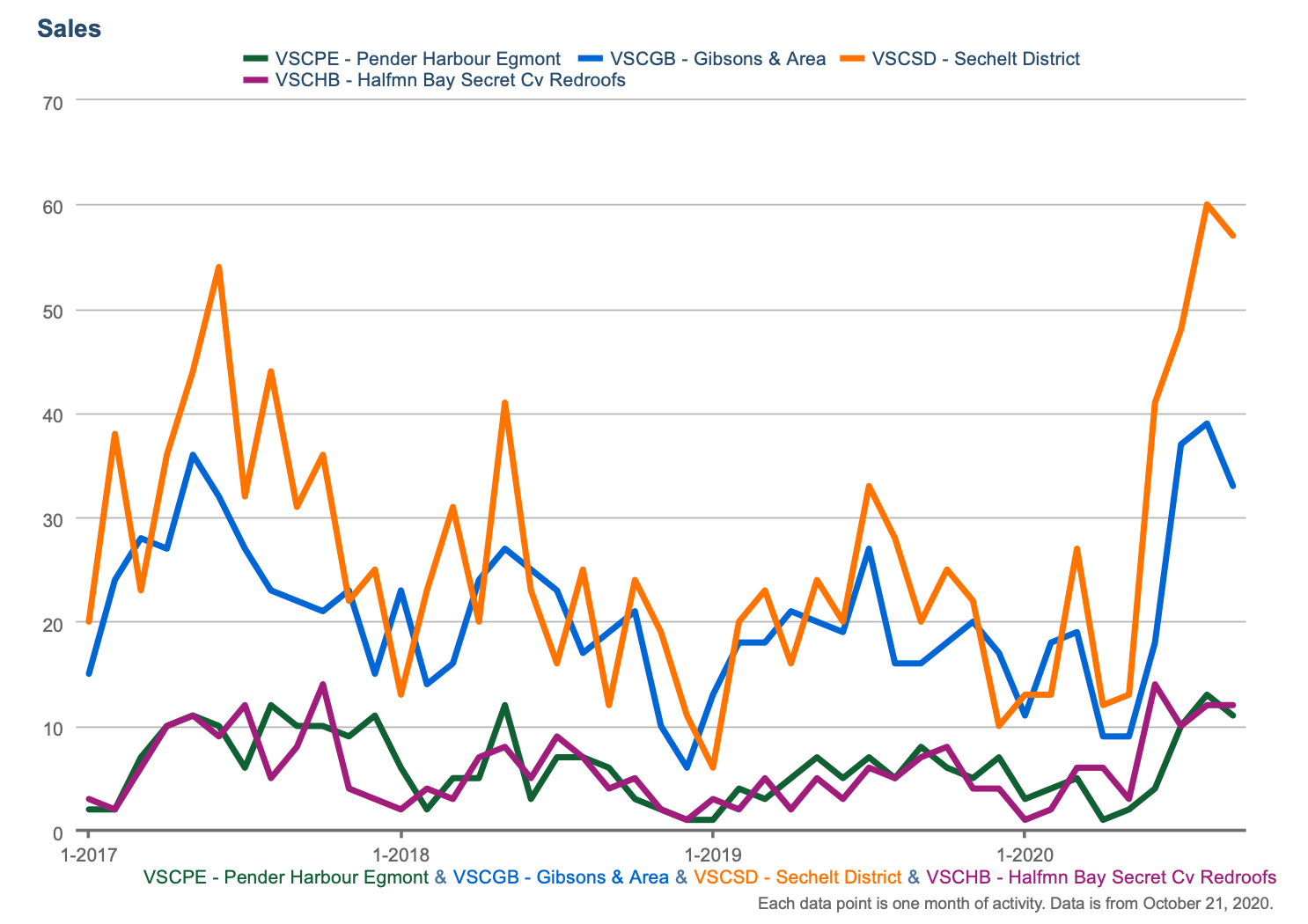 If you are considering downsizing, this market creates excellent opportunities for sellers looking to maximize your gains.  Call us today for a FREE current market evaluation of your home. 
If you are looking to purchase a home, we recommend getting pre-approved so that you completely ready to act on a home that you love. We can help recommend some fantastic mortgage brokers who are familiar with real estate on the Sunshine Coast. 
 Next,  get a personalized search set up to alert you to any new homes that are about to hit the market in your price range.  Being the first to know will give you an edge over other buyers.  Once you find a home, we can help you navigate through the process which can include successfully competing against other buyers.   Call us at 604-817-7173 or email us at
jyork@yorkassociates.ca
to find out how we can help you successfully get the home you want.