The Sunshine Coast has long been a hidden jewel in BC. Only a short 40 minute ferry ride away from the hustle and bustle of Greater Vancouver, the communities of the Sunshine Coast have been a haven for nature lovers, artists, musicians and people seeing a quiet, affordable, beachside lifestyle.   The past several months have shown that the Sunshine Coast is no longer under the radar and in fact was the busiest real estate market in BC for the last quarter of the year.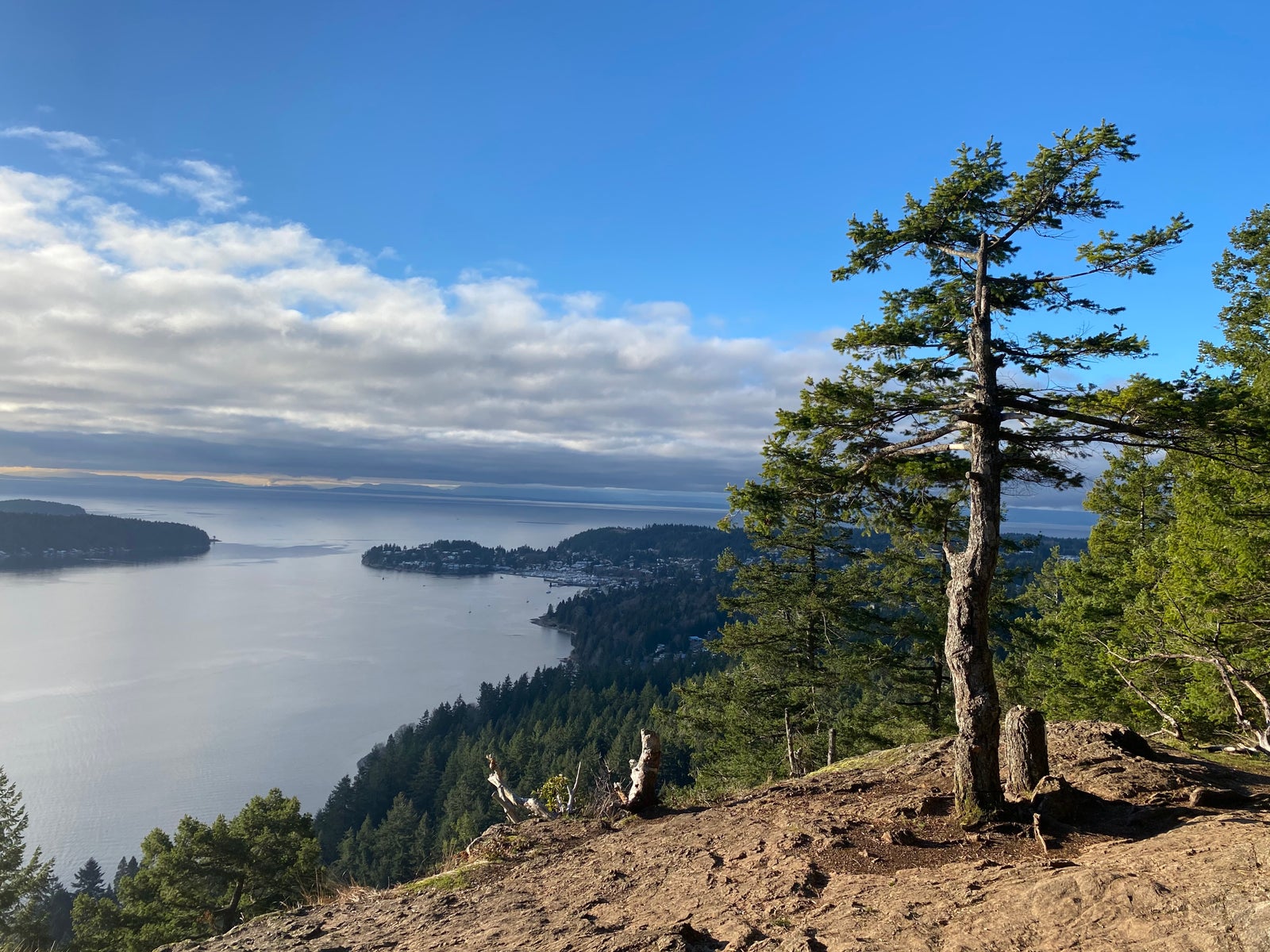 The global pandemic has been a major driver in the change of buyers wants.  It's no longer necessary to go into the office every day and people who are working from home are now looking for property that offers more space for a home office.  The need to isolate and stay at home has increased the desire to have more personal outdoor space and room to add home gyms or other home entertainment.  With borders being closed and ongoing health concerns that may linger after they re-open, travellers are looking for vacation getaways in their own backyard.  The Sunshine Coast arguably has some of the best year-round weather in Canada and is now attracting national interest.   For long-time residents of the Coast, this sudden increase in outside interest has been both welcomed by sellers appreciative of the higher prices their homes command and looked at with concern by local buyers trying to get into the market.  
Local homeowners who are ready to sell this year will be looking at one of the most favourable sellers markets on record.  The 
National Royal LePage 2021 Market Forecast
 shows Greater Vancouver home prices to rise an additional 9% this year.  The Sunshine Coast tends to closely align with the market changes of Greater Vancouver, staying close to 60% of Greater Vancouver's home prices over the past 10 years, and currently is at 68%. The HPI price rose an astonishing 15% across the entire Sunshine Coast from a peak of $616,800 in April 2019 to  $708,100 by December 2020.   With this in mind, we could see average home prices reach the high 700'000's or possibly the low $800'000's by the end of 2021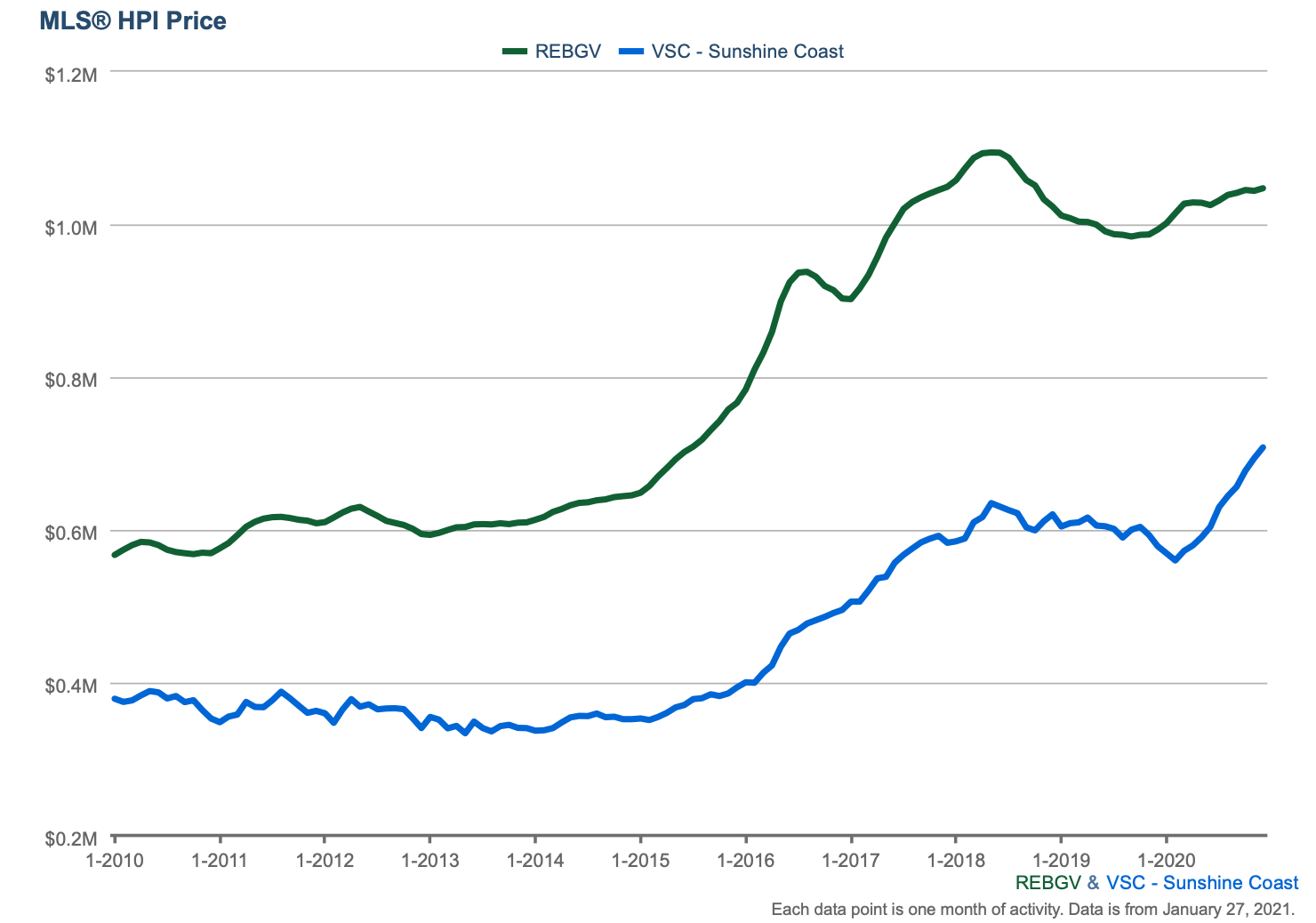 The increase is forecasted in part because of pent-up demand, historically low interest rates under 2% and in the case of our local market, extremely low inventory.   Listings are anticipated to increase in 2021 and so far in January we've had 78 new listings come onto the market vs 62 from last year.  However, sales are up 260% so far this month with 73 compared to 28 for last year.  With only 191 listings (homes and condos) available in total it quickly becomes evident that homes are in short supply compared to the amount of buyers in the market.

Buyers looking to get into the market, whether first time homebuyers or new to the Sunshine Coast will need to be ready to move very quickly and be competitive.  Multiple offers are happening frequently due to limited inventory and unless we see inventory greatly increase, this may the norm for the next foreseeable future.   We recommend that any buyer is ready to go with financing and to keep in mind that if prices do go up as predicted that buying early this year will be more beneficial to help stay within budget.    Work with an agent to set up market alerts so any new listings on the market are automatically sent will be an advantage in this fast market where we are seeing homes get offers within the first few days of being listed.  Agents can also help to find off-market listings or hear about listings about to come on the market before it hits the public eye.   
With over 10 years of real estate experience, the York & Associates team is here to help buyers and sellers navigate this fast-paced and competitive market.  If you are thinking about selling
contact us today
for a FREE no-obligation market analysis to see what your home is worth in today's market.