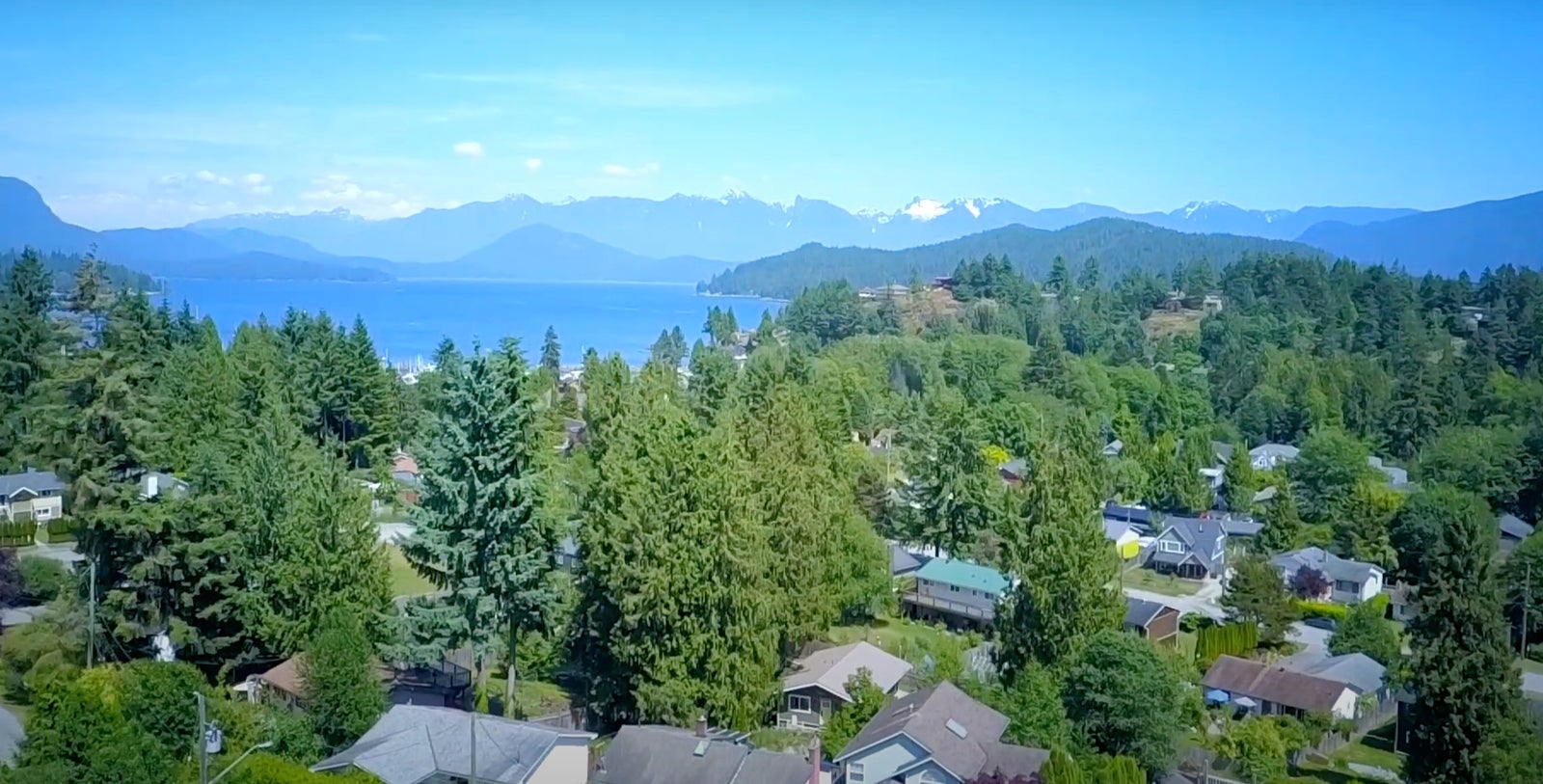 The Sunshine Coast has seen unprecedented price increases over the past 18 months.  In January we predicted that home prices would continue to rise and we would see the HPI (Home Price Index)  reach the high $700,000's to the low $800,000's by the end of the year.  Our forecast ended up being very conservative. As of the end of May, the HPI for the Sunshine Coast reached $804,000 (up 39% from May 2020).    However, new mortgage policies and a slight increase in overall inventory may mean that buyers for some types of homes may finally start to catch a break this summer.   Over the past month, we've seen the record setting pace of home sales and the month over month price increases finally show signs of slowing.  The revised mortgage stress test that started June 1 reduces the maximum borrowing amounts by approximately 4.5 per cent, which we think will certainly change some buyers' top line and may continue to keep sales and prices slowed for the upcoming future as well.  For sellers, this could mean a correction in pricing for some of the homes priced in the $800,000 - $1,500,000 range to adjust to the lower purchasing power of the buyers.  As buyers adjust their budgets, we could see greater competition on homes priced under $800,000.  Luxury properties pricing tends to align with larger economic conditions, both nationally and internationally,  as this tier includes waterfront properties that attract global attention.  
Even with the new stress test, the entire Sunshine Coast remains a sellers market with a ratio of .479 in May (up 584% from the same time last year) as buyers scramble to find homes during this time of historically low inventory.  Only 238 properties were on the market for May, down 46.4% from last year and 61% from the 10 year average.  The demand remains high with 116 sales in May (up 267.7%) and coupled with the lack of inventory, homes are selling very quickly with average days on market now down to 9 days.  
Each area on the Coast has some variances, both with price and types of properties. As you explore each area and price point, micro-markets become apparent and can help savvy buyers find where opportunities await and to help sellers determine pricing strategy. 
This community has the 2nd highest average HPI on the Sunshine Coast with $918,100 (up 44.6%) for detached homes, $419,600 (up 23.9%) for apartments and $622,800 (up 31.5%) for townhomes.
For detached homes, the hottest properties were priced between $600,000 - $1,000,000. Many of the homes in these price ranges sold for over asking and within 2 weeks of being listed.  Homes in the $1,000,000 - $1,500,000  range were on the market for 26 days on average and sold within 97% of the list price.  

For townhomes and apartments, the sweet spot was anything priced under $600,000.  Properties in this price range were sold within a month at either asking or over the asking price. 
A new development was launched on School Road, providing some affordable brand new condos in the $600'000's and the last inventory of Eagleview Heights was released for buyers seeking luxury options.  These stunning condos range from the low  to mid $1,000,000's. 

This small neigbourhood continues to maintain the highest average HPI on the Sunshine Coast with the HPI reaching $980,000 in May (up 45% from last year).  With its incredibly limited inventory and larger private forested lots close to spectacular beaches,  it's easy to see why.  Homes were on the market here less than a week and sold at full asking price. There currently are a few incredible oceanfront estates in the $3,000,000 + range for buyers looking for that unique property.  Land here could be a good option to consider as a long term hold.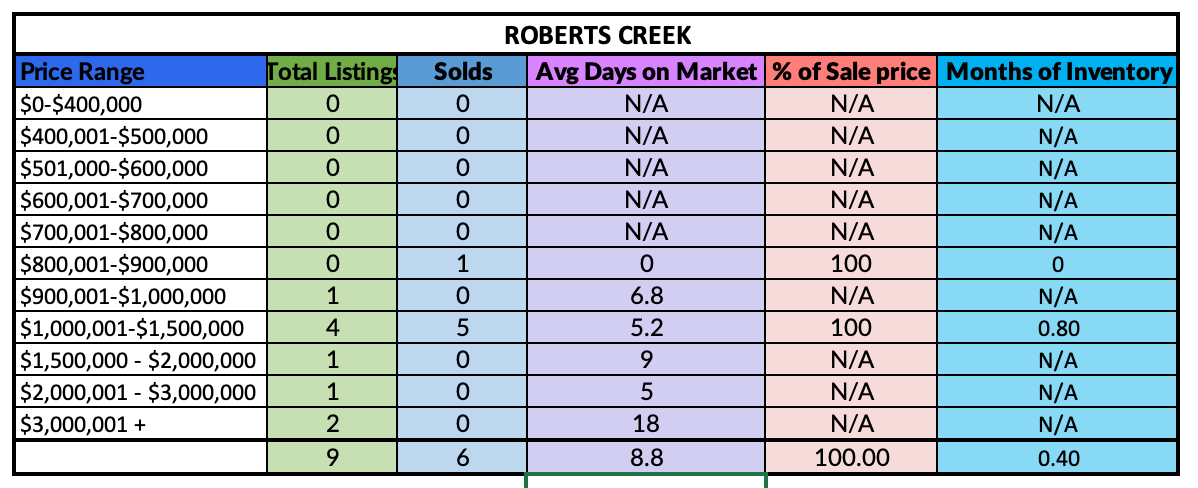 With a variety of neighbourhoods and more new product available than other areas of the Sunshine Coast, Sechelt's HPI for detached homes was $768,400 (up 39.8%) has more affordable homes in the $600,000 - $900,000 price range than Gibsons. However these categories proved to also be the most popular with buyers with homes selling within 2 weeks of listing and sellers getting their asking price or higher.
   If buyers are looking for an opportunity to get some value, we recommend looking at single family homes in the $1,000,000 to $1,500,000 price range. Based on sales to current listings, there are 5 months of inventory and we are seeing homes selling for less than the list price.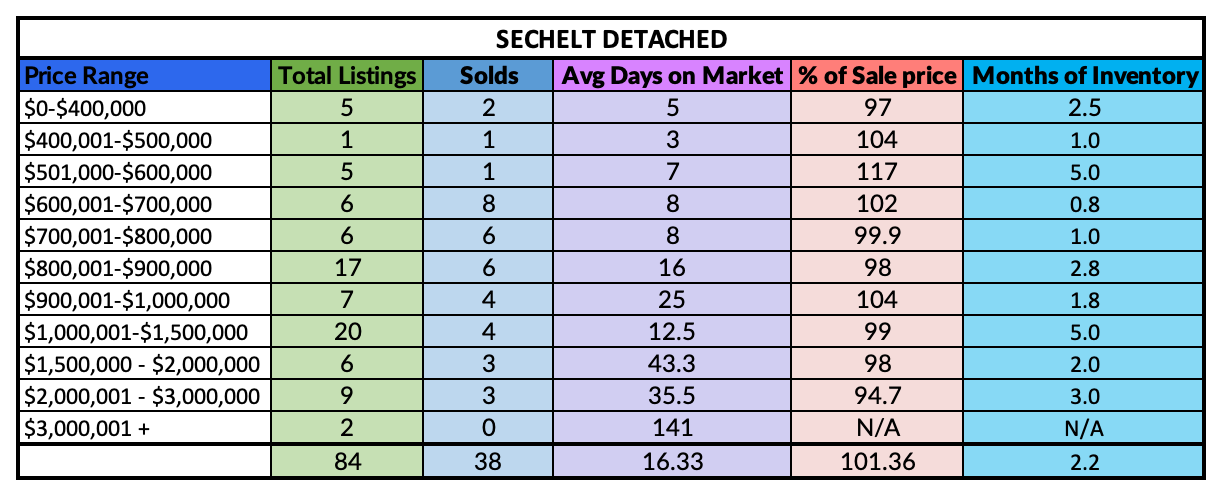 Similar to Robert's Creek, Halfmoon Bay features larger forested properties and gorgeous oceanfront estates. However Halfmoon Bay, with an HPI of $827,300 is the more affordable option for buyers looking to have a home just outside of the larger urban areas.  It still is a competitive market across nearly all categories though, and buyers can expect to see competition and may need to offer more than the asking price, especially for homes in the $600,000 - $900,000 price range. 

This varied and beautiful part of the Sunshine Coast offered the most affordable properties with an HPI of 763,200 however this area also experienced the highest price increases, rising 45.6% over May of last year.  It's still possible to find single family homes under $600,000 although buyers will need to move quickly as they have been selling in under 10 days. 

This fast pace pace can cause stress for both buyers and sellers as buyers compete for properties and sellers feel pressure to quickly find a home after theirs sell.   Working with a real estate agent to help understand market conditions for each type of home and price range can help sellers get the price they want and buyers to be the successful purchaser in a multiple offer scenario.  At York and Associates, Royal LePage Sussex we closely monitor the market to ensure our intel is the most up-to-date so our clients are ensured of accurate and timely information. 
Email us
or Call us today to find out what your home is worth in today's market or how we can help you buy the home of your dreams.