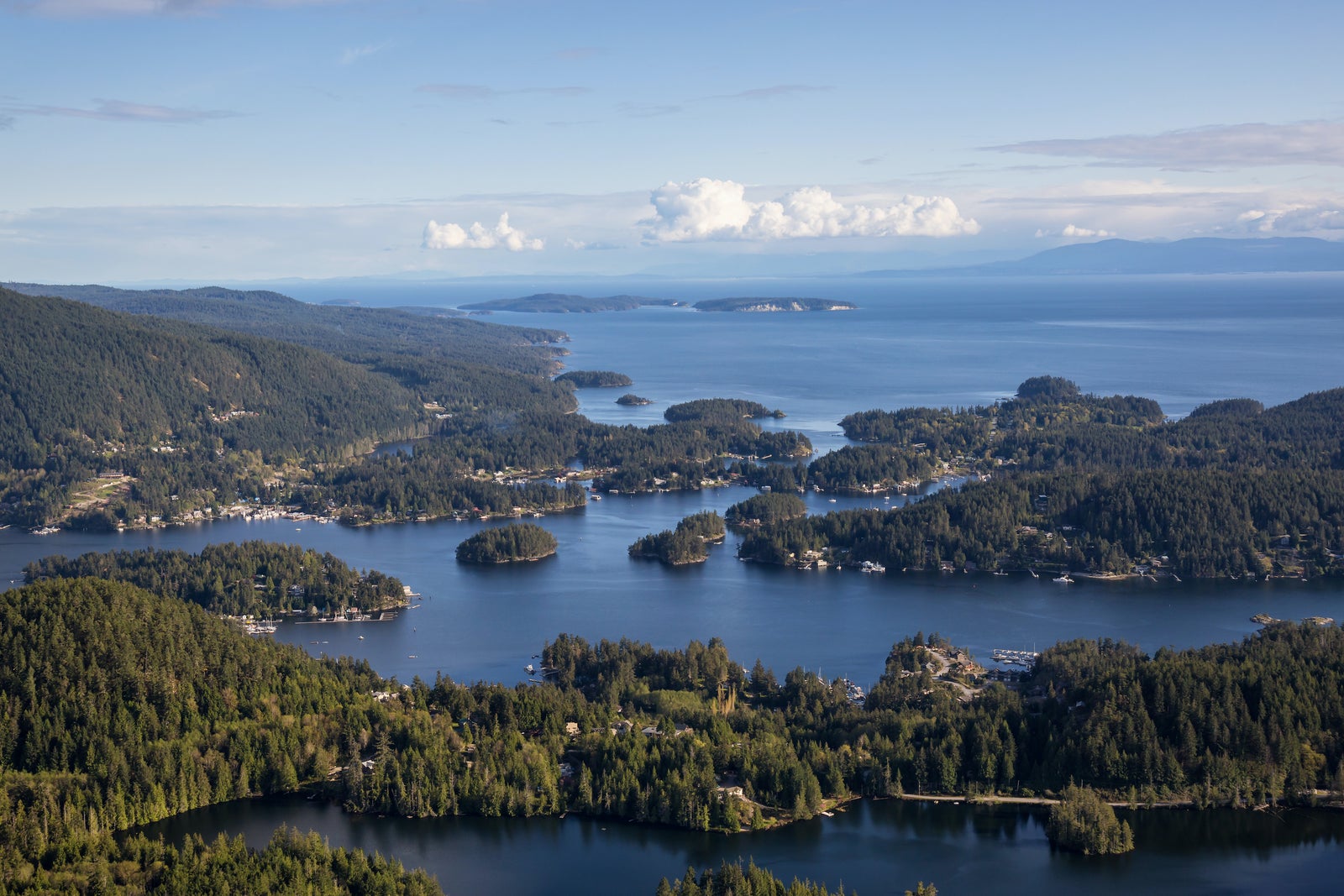 "Pender Harbour and Hotel Lake"
After a slight dip in prices for June,  July showed a stead market with prices holding firm or still rising in some categories.   The average home price across the Sunshine Coast went up to $804,900 from $801,100 the month prior.  Most of these gains were from increased average prices in apartments (up to $521,500 from $505,800) and townhomes ($611,600 from $604,100)  while the average single family home price dipped to $833,800 from $834,100.     
The days on market increased slightly from the month before, going from 9 days to 12 days which is still at an all time record pace as homes continue to sell 65.7% faster than the year prior during the same time period.   
We continue to see ongoing low inventory.  There were only 257 homes available across the Coast in July, which is 47.8% lower than the previous year and approximately 60% lower than the 10 year average.   This low inventory will continue to help maintain the current home prices as more buyers are attracted to the Sunshine Coast for its proximity to Vancouver,  abundance of natural resources and now as a viable alternative to the Okanagan as fires continue to smoke out tourists and vacation property owners there.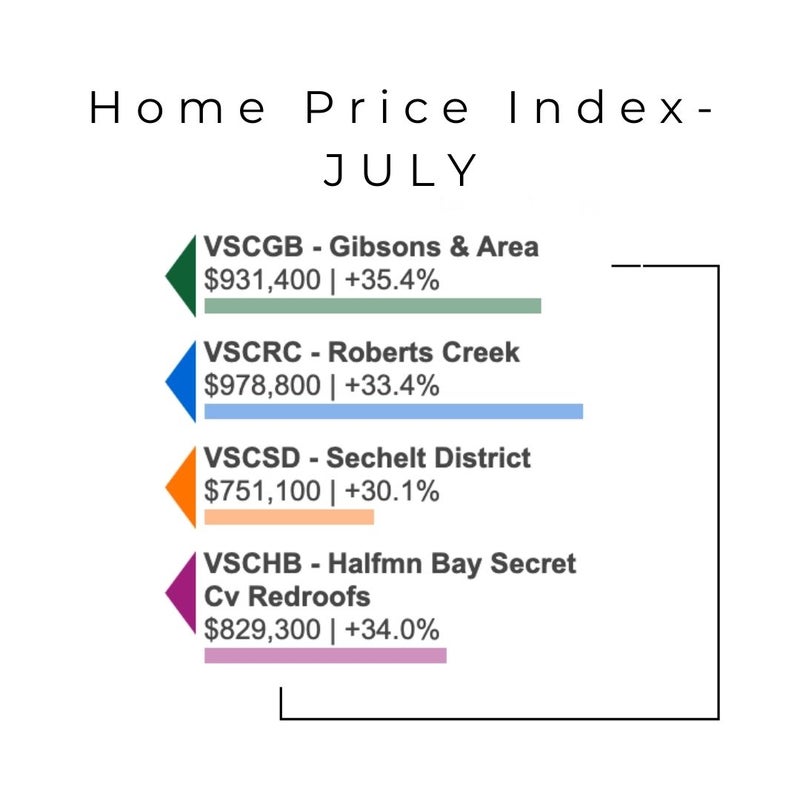 This market saw the highest gains on the Sunshine Coast in price for July.  The HPI for a detached home rose from $918,100 to $931,400.   The average days until sold dropped down to 23 as homes priced under $1,000,000 were snapped up within several days of being listed.  Sellers were able to achieve 100% of sale price on average and multiple offers were still being seen.  Homes above the $1,000,000 range were on the market slightly longer, selling on average within 26 days of being listed.    Gibsons was the strongest sellers market on the Coast for single family homes and with incredibly low inventory of only 28 homes currently for sale, we expect this trend to continue. Homeowners considering putting their home on the market in Gibsons will find this could be an optimum time to achieve top prices.  

This market was the most affordable on the Sunshine Coast in July and also had a slight decrease in prices with the average price at $751,100 down from $766,600 in June.  Sellers achieved 98% of their list price and buyers were able to find some room to negotiate, especially in the $1,000,000+ price range.  This could adjust for August however, as inventory has dropped slightly from the previous month from 77 homes in June to 65 in July.  The increases of home prices in Gibsons and Roberts Creek could also make Sechelt look more inviting for Buyers looking for value on the Sunshine Coast. 
Nestled between Sechelt and Gibsons, Roberts Creek is quickly becoming the "West Vancouver" of the Sunshine Coast. Once a haven for artists and hippies, this small community is now the priciest area on the Coast.  The HPI for a home was $978,8000 for July, slightly down from $981,200 in June.  There are only 15 homes available in this community with the lowest listed for $749,000 for a 1 Br cottage on a 1 acre on the Sunshine Coast Hwy.  Homes typically sell quickly and sellers are seeing an average of 100% of their asking price. 

Similar to Roberts Creek, this community just 15 minutes outside of Sechelt offers private large treed properties close to fantastic beaches.  The HPI of $829,300 was slightly down from June's $830,100.  There were 10 sales in July, including one apartment located in Secret Cove on the water that sold for 110% of list price.  The single family homes sold on average within 40 days and for 98.7% of the listing price. However homes  priced under $1,000,000 sold within 21 days on average and for over asking.   With only 16 homes currently available, prices are likely to remain stable and buyers are recommended to have their financing in place and be able to act quickly when looking at homes in Halfmoon Bay.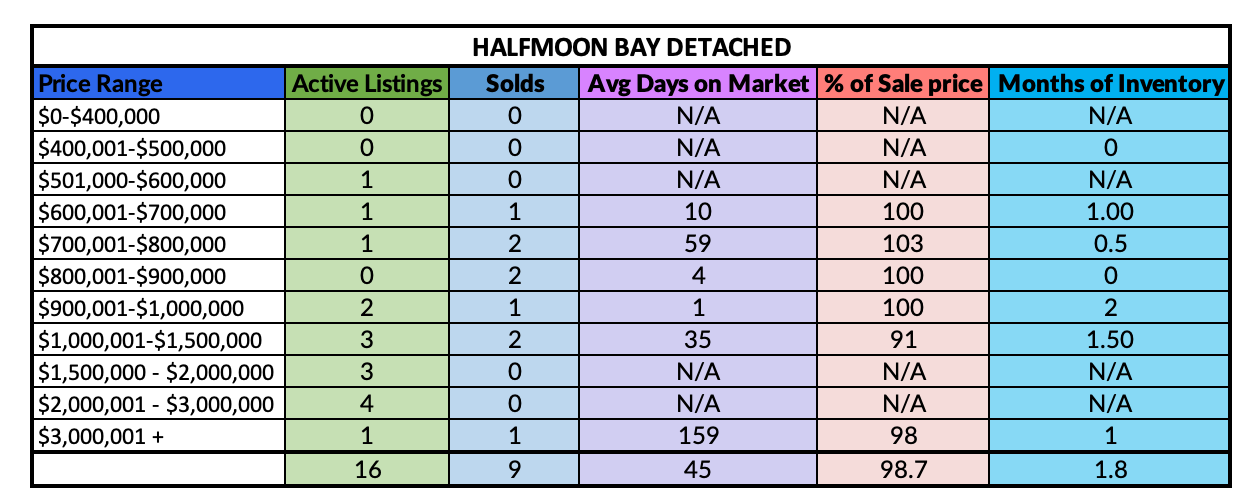 This spectacular area has some of the most affordable properties on the coast, and with its' lakes, forests and oceans still feels like a vacation destination even for local Gibsons and Sechelt residents. The HPI for July was $760,400, down from $766,000 in June.  Compared to other parts of the Coast, this area has a higher listings to sales ratio, which allowed buyers to find some great value.  There are 35 homes currently available and only 4 sales were recorded for July.  Buyers were able to purchase homes for 93% of the listing price on average.   Although Pender Harbour is a bit further away from the hub, it does offer all the amenities, including golf and shopping, so this could become the next up-and-coming area for more buyers to choose when coming to find their home on the Coast.