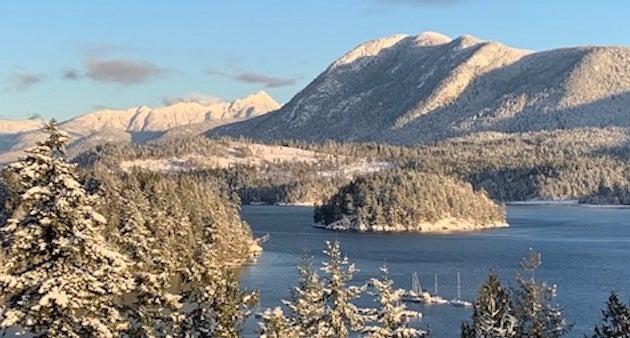 2021 was an un-precedented year for the Sunshine Coast.   Heat waves, record snow and rain falls, floods, fires and a pandemic.  Nothing stopped the hottest real estate market on record.   Prices throughout the region hit banner levels and inventory continued to drop as sales outpaced new listings.   The HPI home price for all the Sunshine Coast rose to $854,500, +26.9% from December 2020.   
Total inventory is at the lowest level ever with only 170 properties currently for sale.  Out of this number, 54 properties are bare land for sale, and 2 are on Keats and Gambier Island, leaving a mere 114 homes and condos available for homebuyers on the Sunshine Coast looking to move into a new home in the next few months.  In addition, homes are shown as available, even when under offer, until all subjects are removed.  This means that many of these properties could be actively under offer and not actually available for purchase.  An example of this in Gibsons, where there are 17 parcels of land listed for sale, however 15 of these are in the King and Castle subdivision, which are actually all under offer and are waiting for the developer to remove subjects.  This means only 2 lots of land in Gibsons are currently available. 
This lack of inventory has been one of the factors impacting price and we forecast it will continue to be an ongoing issue moving forward into the first two quarters of 2022.    Homeowners on the Sunshine Coast have received their BC home assessments which reflect the change in home values over the past year.  While these assessments will still not be complete accurate reflections of the current values, they are a good indication of what to expect.  For buyers looking at getting into a new home this spring, working with an agent will be invaluable to help you keep ahead of the curve by keeping you updated on any listings coming soon or to know which homes are still available for purchase.   
GIBSONS
22 Sales - 15 Houses, 2 Apartments & 5 Townhomes
HPI Price $886,300 + 25.3% ( all properties)
Median Sale Price: Detached Homes $999,000 +16.8% | Townhomes $550,000 -5.1% | Apartments $536,950 +38%
Total Inventory: 41 Homes -43.8% | Days on Market: 10 -47.4% | New Listings: 22 +46.7%
Sales to Actives Ratio: .537 +30.7% (Very Strong Sellers Market)
With the average home price in Gibsons just under $1,000,000, townhome and apartment prices also saw pressure to rise as homebuyers looked to alternative affordable options.  Inventory for affordable apartments and townhomes is extremely limited.  There are 10 currently active under $600,000.  Townhomes under $600,000 flew off the shelf with an average sale achieved in less than a week and 104% of asking price.  For single family detached homes, homes between $800,000 - $900,000 were the most popular for buyers, selling within 7 days and for full price. 

ROBERTS CREEK
3 Detached House Sales -40%
Median Sale Price $1,199,900 +39.5%
Total Inventory: 9 Homes -0% | Days on Market: 74 +100% | New Listings: 5 +150%
Sales to Actives Ratio: .333 -40.1% (Sellers Market)

This area continues to be some of the most desirable property on the Sunshine Coast. The lowest priced home in Roberts Creek is currently listed at $1,199,900 and the lowest sale price in December was for $1,199,000.  This area continues to be some of the most desirable property on the Sunshine Coast.  With limited inventory, any land that becomes available will be a good investment in the coming year. 


SECHELT
38 Sales - 32 Houses, 4 Apartments & 2 Townhomes
HPI Price $795,600 + 27.7% ( all properties)
Detached Homes $823,500 +28.3% | Townhomes $634,700 +31.3% | Apartments $575,800 +19.5%
Total Inventory: 44 Houses -53.2% | Days on Market: 57 -20.8% | New Listings: 10 -61.5%
Sales to Actives Ratio: .409 +28.2% (Strong Sellers Market)

With 38 sales versus only 44 listings, we predict this month Sechelt will see some higher price increases than other parts of the Sunshine Coast.  Apartments are in extremely limited supply, with only 3 apartments currently available to move into this year.  There are another 9 apartments listed on MLS, however these are part of a new development that is waiting for permits to commence construction and an estimated completion of 2024.  Sechelt is also one of the few communities that is friendly to airbnb owners, and investors have increased their active searches for suitable properties.  There are several large developments that have been submitted for approval with the district that could add over 1000 new homes to this area in the next 10-20 years. However, for the majority of the proposed housing, water and infrastructure issues will need to be addressed prior to anything being approved and moving forward. 

HALFMOON BAY
5 Sales - All detached homes
HPI Price $900,200 + 30.6% ( all properties) | Detached Homes $895,300 +30.7%
Total Inventory: 6 Houses -50% | Days on Market: 39 +50% | New Listings: 3 +50%
Sales to Actives Ratio: .833 +233% (Extremely Strong Sellers Market)

The entry point for single family homes in this area is now in the high $600,000s. The lowest priced home listed in the area in January is a 3 BR 1200 sq ft home for $679,000.  This still offers great value as Halfmoon Bay offers a similar feel to Roberts Creek with it's tight knit community, great beaches, forests and one of the best elementary schools on the coast. There are some large lots for sale in the upper hills that are part of a planned community. These lots offer amazing views and are listed in the Mid $400's to high $500,000's. For purchasers looking for a home in Halfmoon Bay, these lots could provide a good opportunity to own acreage and build a new home for a comparable price to established properties. 

PENDER HARBOUR
7 Sales - 22.2%
HPI Price $814,300 +28.8% (Detached Homes)
Total Inventory: 15 Homes -26.3% | Days on Market: 63 -231.6% | New Listings: 4 -55.6%
Sales to Actives Ratio: .467  +19.4% (Very Strong Sellers Market)
With only 15 homes actively listed on the market and of those, only 4 are priced under $1,000,000 we expect land prices to start to increase as building a new home starts to compare favourably to purchasing an older home that requires updating.  This area has the largest ratio between land for sale versus homes for sale with 16 lots available ranging from single family lots starting at $185,000 to large acreages up to $3,000,000.   
At Manley, York & Associates, we understand that your home is your largest investment. 
We closely monitor the market to ensure our clients receive accurate and timely information about market conditions for each type of home and price range to help them achieve their goals when buying or selling a home. 
Email us 
or call us today at 604-817-7173 to find out what your home is worth in today's market and how our concierge service can help take the stress out of the buying or selling process.