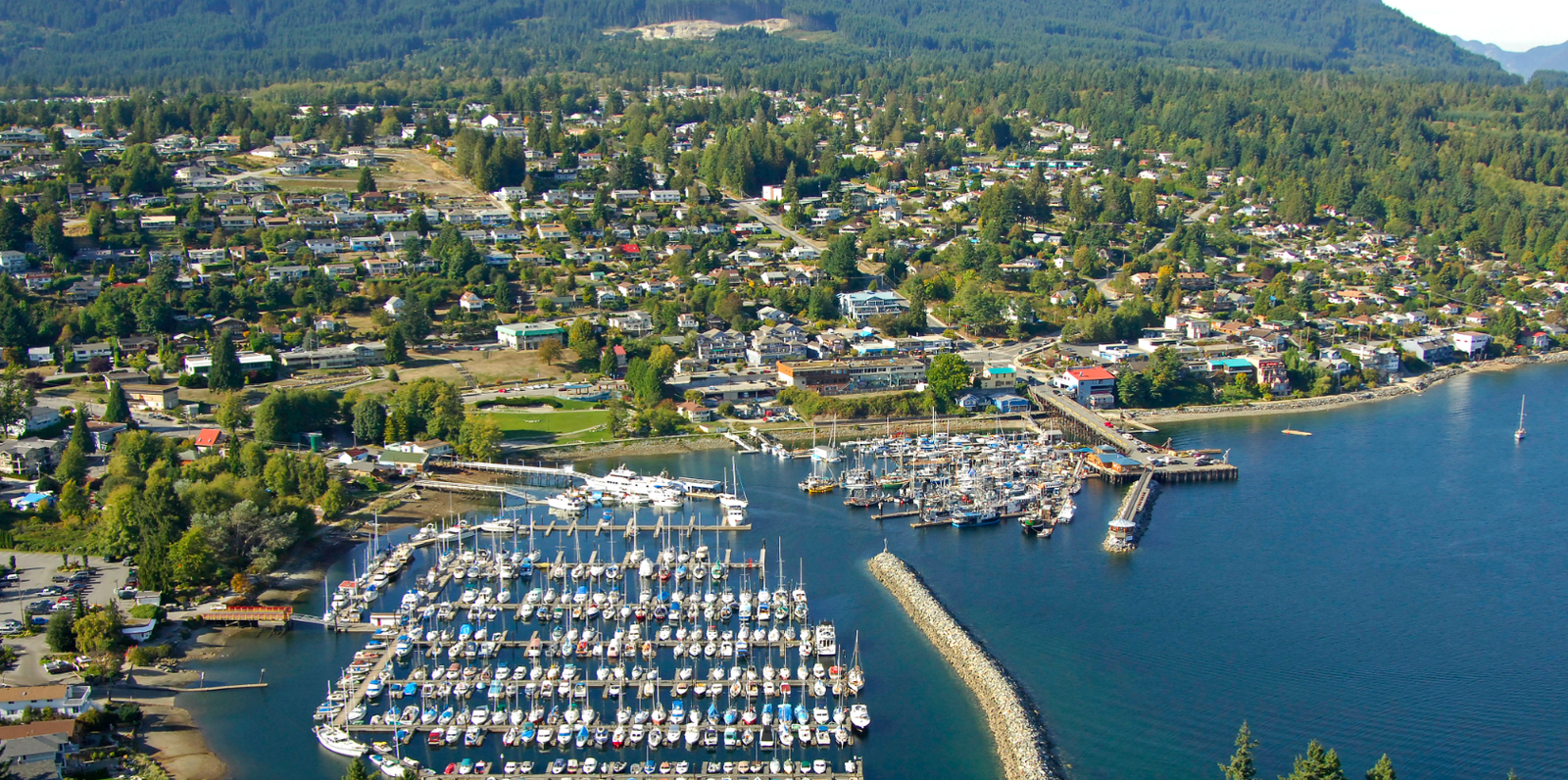 Photo from Gibsons Yacht Club
The real estate market on the Sunshine Coast continued to move forward like a high-speed train with no stops in sight.  Prices rose over 10% across all markets in the first 3 months and April is continuing on the same low inventory, high demand track.  As of April 15, we have 239 properties for sale across the Coast. However, 1/3 of those were bare land and 5 properties were for Keats and Gambier Island.  This means there are actually only 186 homes available from Gibsons to Pender Harbour to move into immediately.    While this is an increase of inventory over the previous months, we still have the lowest level of inventory for over 10 years.   Last April there were 221 homes available and the year previous (2020) there were 406.   Part of this low inventory is the ongoing strong demand from buyers and a nearly chronic shortage of new housing to keep up with population growth.   There have been 191 sales from March 1 to April 15, 98 of those in March and the other 93 in the first half of April.  Compare this to 110 total sales for all of April 2021 and the numbers speak for themselves about the strength of the market.   Currently the Sunshine Coast has only 1.5 months of inventory for sale and at some price points, there is far less than that.      
As we move forward into the rest of Q2, the new federal budget which is targeting real estate investors and foreign buyers will be rolled out, the provincial government's cooling period may be voted in, interest rates will have risen over 1% and inflation will continue to impact purchasing power.  All these factors may start to put the brakes on this ferocious market.  However, even if prices do decline a bit, they will still be substantially higher than the start of this incredible market, and we anticipate average home prices to stay well above $800,000. 
TOTAL SUNSHINE COAST (Mar 1 - April 15)
191 Sales - 115 Houses, 15 Apartments, 20 Townhomes, 43 Bare Land
HPI Price $955,700 +29.8%
HPI Detached Homes $995,600 + 30.1% | Apartments $585,400 +21% | Townhomes $741,700 +35.7%
Prices continued to have upwards pressure with demand outstripping supply.  Across the whole Coast, here are only 10 detached homes on the market under $600,000. A closer look though reveals most of these homes are either manufactured homes in age restricted mobile parks, or on lease land.  There is one freehold home for sale currently in Madeira Park for $550,000, which even thought it's being sold "as is/where is" we feel offers good value, considering it's priced lower than the average apartment and after this, the next lowest priced home is $699,000. Across nearly every price category, sellers were achieving over ask, especially in the $800,000 - $1,200,000 range which represented the average family home.  In this range, homes sold on average for 105% of asking.  Moving forward we predict $1,300,000's are now going to be common for newer homes with suites. 
A new level of pricing is hitting the luxury market as well with $3,000,000+  becoming a common sight for waterfront homes. There are some waterfront homes available under $1,500,000 but these are being valued at mostly lot value with the homes being sold "As is/Where is".   We are predicting that $2,000,000 will become the new minimum to get a move-in home that only requires some updates on the water on the Coast.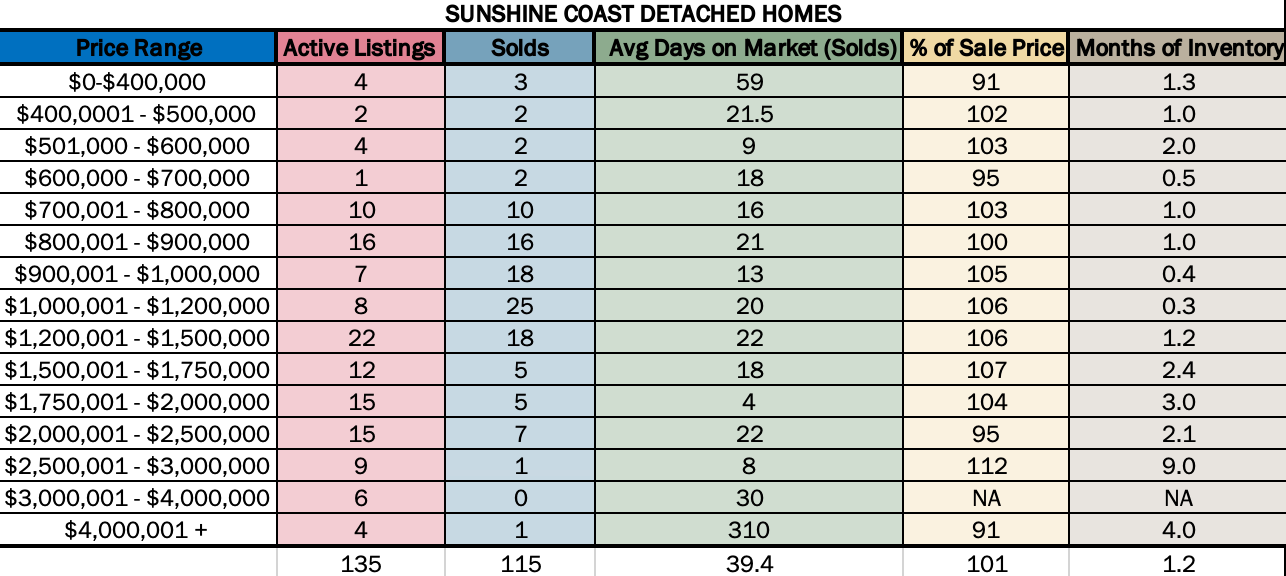 GIBSONS (Mar 1 - Apr 15)
78 Sales - 45 Houses, 7 Apartments, 12 Townhomes, 17 Bare Land
HPI Price $989,800 + 29.9% ( all properties)
HPI Detached Homes $1,068,100 29.5% | Townhomes $761,000 +34.3% | Apartments $502,200 +25.3%
Total Inventory: 62 Homes -6% | Days on Market: 10 | New Listings: 62 +8.8%
Sales to Actives Ratio: .597 (Extremely Strong Sellers Market)
The sales stats showed that sellers were able to achieve an average of 104% of list price for homes in Gibsons.  Detached homes in the $1,200,000 - $1,750,000 range were the most competitive with sellers in this price range achieving an average of 109% of list price.  The lowest price range for detached homes in Gibsons now starts at the $700,000-$800,000 category.  Land sales were skewed this month as 10 sales were registered for Castle Road, which were actually purchased last year, but could not be registered until the developer was able to transfer title.   If these are removed then the average lot in Gibsons is now selling in the mid $400,000's.  

ROBERTS CREEK (Mar 1 - Apr 15)
3 Detached House Sales -50%
Median Sale Price $1,154,80 +30.5%
Total Inventory: 10 Homes +28.6% , 2 Lots | Days on Market: 8 -11.1% | New Listings: 9 
Sales to Actives Ratio: .222%  (Sellers Market)
The entry price point for a home in Roberts Creek is currently in the $800,000-$900,000 price range, making it difficult for first time home buyers to purchase in this neighbourhood.  There are only 2 land parcels for sale currently, one listed in the $600,000's and one for $1,100,000.  However with homes here ranging up to $2,700,000's, buying and building continues to be a viable option.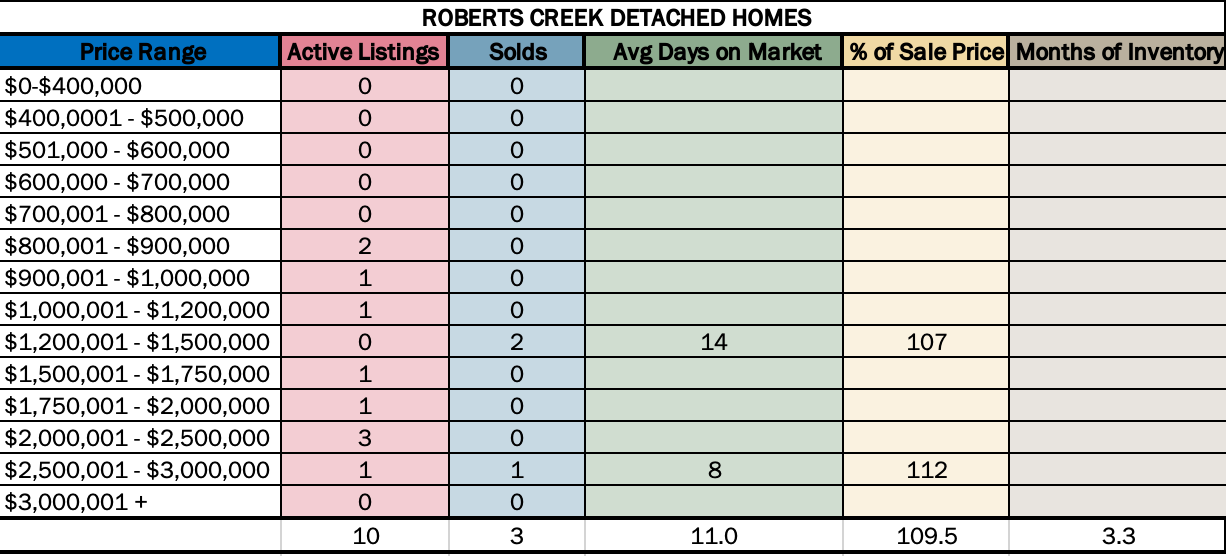 SECHELT
61 Sales - 44 Houses, 8 Apartments, 7 Townhomes, 2 Bare Land
HPI Price $891,100 + 25.9% ( all properties)
Detached Homes $922,900 +29.9% | Townhomes $738,400 +36.7% | Apartments $620,400 +16.6%
Total Inventory: 67 Houses -18.3% | Days on Market: 9 -18.2% | New Listings: 58 -18.3%
Sales to Actives Ratio: .597  (Extremely Strong Sellers Market)

The lowest priced home in Sechelt is $699,000, making this the entry point for anyone seeking to get into a detached home. Unfortunately, inventory is this range is extremely limited with only 3 homes priced under $800,000.  A typical three bedroom rancher is selling between $849,000 - $900,000 with brand new and ocean view ranchers reaching over $1,100,000.  In addition, the average selling price for all homes listed between $700,000 - $1,750,000 was 104% over asking, showing that buyers will most likely need to come prepared to compete and be willing to offer a minimum of full asking price for the next foreseeable while.  There is a new development launching in the Davis Bay/Selma Park area that will bring 100 new detached homes to the market this spring. Pricing has not been released yet, but registrations are starting.  We anticipate that pricing will start in the high $900,000's. There are 12 apartments listed for sale, however only 3 are able to be moved into this year as 8 represent a development that will most likely be ready for occupancy in late 2023.   A few new townhome developments are in the works and should hit the market by late spring or early summer.  For bare land, 8 new lots just hit the market in West Sechelt, starting from the low $400,'s.  A savvy buyer willing to build and wait could have a brand new home by the end of the year for around $1,200,000 -$1,300,000. 
This much needed additional inventory will help keep prices a bit more stable in Sechelt moving forward.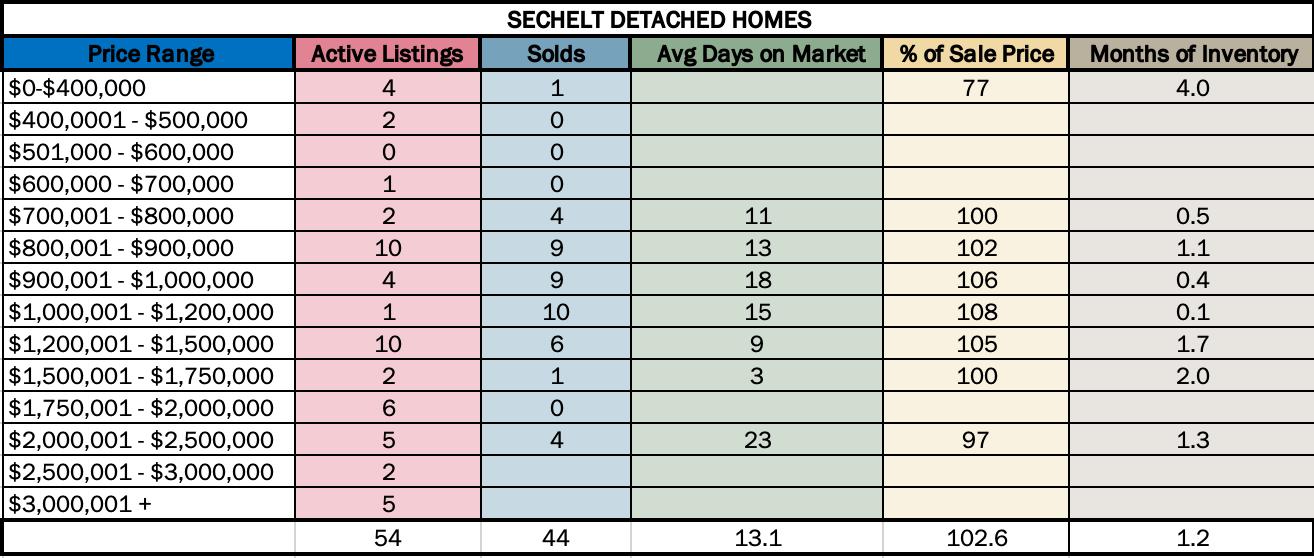 HALFMOON BAY (Mar 1 - Apr 15)
20 Sales - 10 Detached Homes, 10 Bare Land
HPI Price $982,700 + 29.7% ( all properties)
Total Inventory: 11 Detached Homes -60%, 12 Bare Land | Days on Market: 10 -16.7% | New Listings: 5 -28.6%
Sales to Actives Ratio: .889  (Extremely Strong Sellers Market)

Halfmoon Bay is the strongest Sellers Market on the Coast, which is saying quite a bit in one of the busiest markets ever experienced here.  There is under 1 month of inventory for detached homes and the entry level price point is now in the mid $700's.  The one sector that Halfmoon Bay is able to offer is bare land.  Half of all the inventory for sale is bare land, mostly found as large estate sized acreages in the new planned neighbourhoods, Bayview Heights and Bayview Hills. The entry price for land is currently $349,900 for a 1/2 acre.  If you are looking for ocean views or waterfront be prepared for $500,000 and up for a 1/2 acre.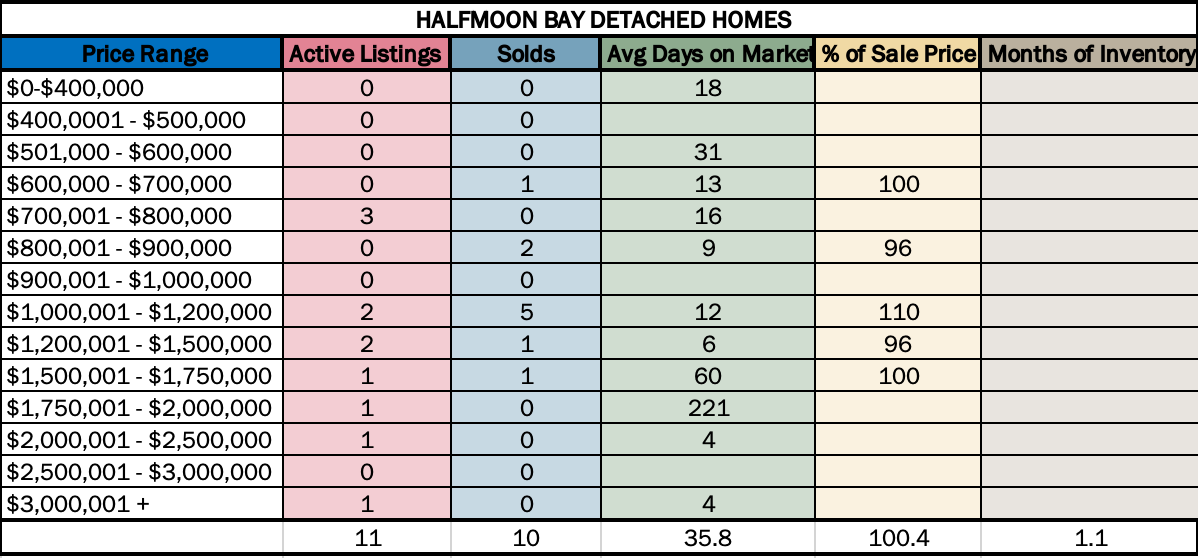 PENDER HARBOUR (Mar 1 - Apr 15)
22 Sales  -  10 Detached Homes, 1 Townhome, 11 Bare Land
HPI Price $913,200 +33.3% (Detached Homes)
Total Inventory: 33  - 20 Detached Homes | 3 Townhomes | 12 Bare Land
Days on Market: 8 -20% | New Listings: 17 -21.4%
Sales to Actives Ratio: .381 -23.8% (Sellers Market)
Pender Harbour, while typically a smaller market, represented nearly 10% of all new listings that have come on the market since March and has 20% of all land for sale.  This increase in new listings means that Pender Harbour is the only region on the Coast that has 2 months of inventory.  This could mean for buyers, there may be an opportunity to offer without as much competition as in other areas and we may see a lower increase in pricing by next report.  However since prices are lower, we recommend that budget conscious buyers pushed out of Gibsons and Sechelt still get prepared to move quickly when homes available since typically they are sold within a week of being listed.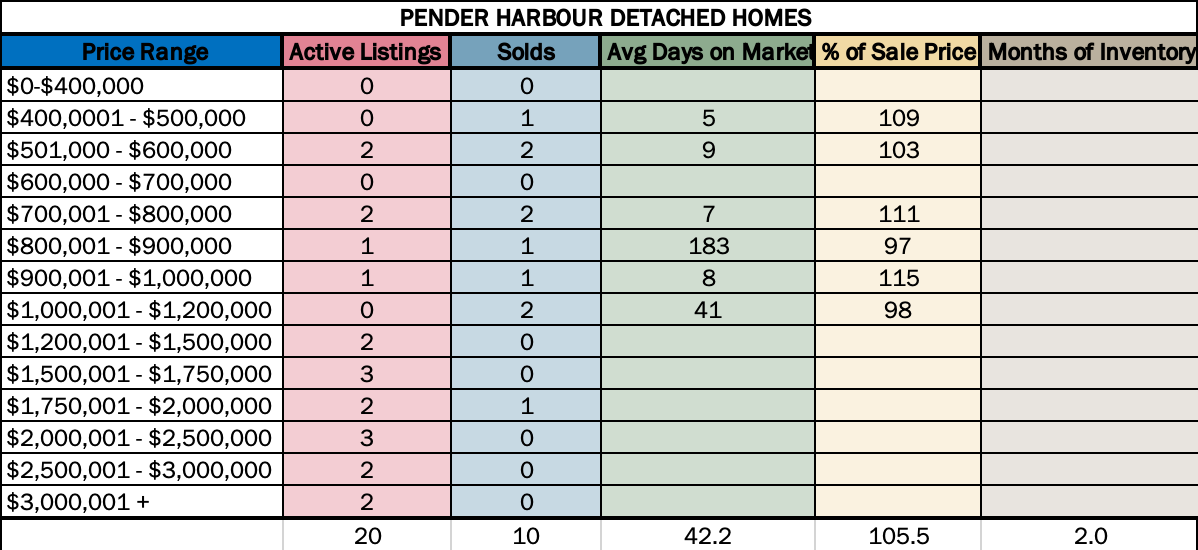 At York and Associates, Royal LePage Sussex we understand that a hot market can cause stress for both buyers and sellers. We closely monitor the market to ensure our intel is the most up-to-date so our clients are ensured of accurate and timely information about market conditions for each type of home and price range.
Email us or call us today at 604-817-7173 to find out what your home is worth in today's market and how our concierge service can help take the stress out of the buying or selling process.