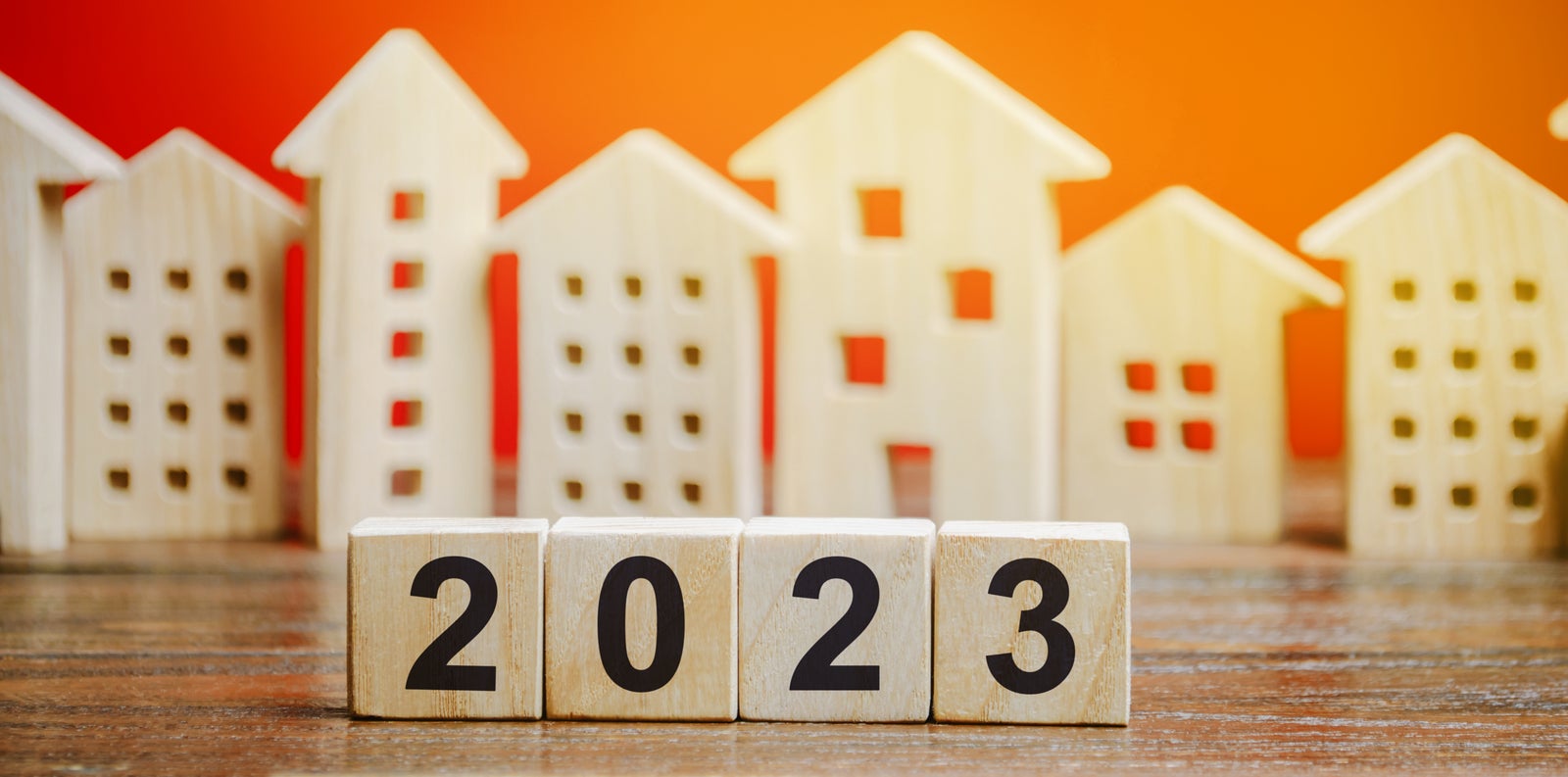 For most of 2022, homeowners saw gains made to their home values throughout 2021 erode as home buyer purchasing power was reduced.  This was caused by the interest rates being raised 8 times in a 12 month period as the Bank of Canada took aggressive action to order curb nationwide double digit inflation growth.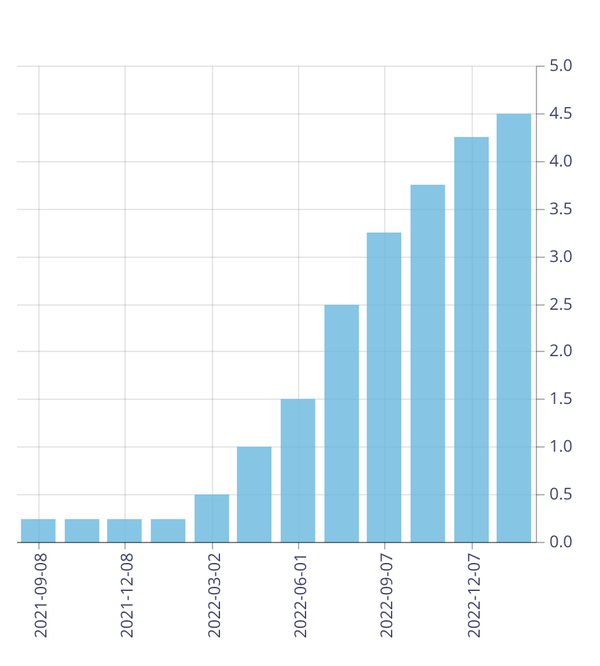 The combination of the high inflation and rising interest rates had a  dramatic effect on both consumer confidence as concerns arose around job loss due to pussible recession and the reduced homebuyer purchasing power as the cost of borrowing nearly doubled. If you had a variable rate mortgage in March of 2022 it would have cost you approximately $393 per $100,000 and by the end of the year it cost $600 per $100,000.
(1)
  An uninsured fixed rate mortgage cost $470 per $100,000 in March of 2022 and then cost $598 per $100,000 by the end of the year
(2)
1) based on a variable rate mortgage at 1.13% and 5.55%, 25 year term, monthly payments.
2) based on fixed rates of 2.94% and 5.24%, 25 year term, monthly payments.
At the end of January, the HPI (Housing price Index), or the value  of a "Typical" home, on the Sunshine Coast was $803,600.  This is just slightly above the HPI in November 2021 of $800,500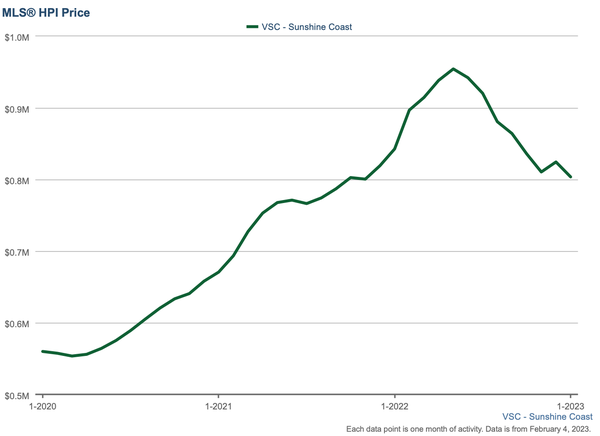 For buyers who purchased on the Sunshine Coast at the peak of the market, they saw a decline of approximately 16% in value.   While this can seem daunting, real estate is a long term game and historically homeowners who are able to stay the course will find that they recoup and usually surpass any losses within 5 years.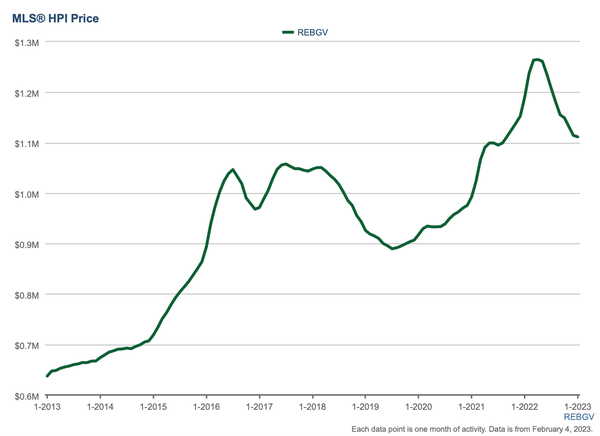 A look at the last 5 years shows a similar situation to this current market:  In 2018, home prices in the Greater Vancouver area hit a peak in February and then declined 15.3% by July 2019. They then rebounded to match Feb 2018 by March of 2021 and are still higher today by 6%. 
Moving into 2023 most financial and real estate institutions are forecasting that prices across Canada will hold and potentially have a slight increase of 1-2% by the end of the year.  We expect to see similar conditions on the Sunshine Coast as consumer confidence regains traction and the Bank of Canada is not expected to do any further rate increases.     
In addition, supply and demand, the two biggest factors to impact pricing, will work together to keep home prices at a steady level.   The demand will be fuelled in part by Canada's goal of higher immigration targets to take in 500,000 immigrants a year by 2025, which means almost 1.5 million new immigrants coming to the country over the next three years.  A recent article from BIV estimates that "B.C. continues to absorb around 20 per cent of immigrants to the country, the province could be looking at 97,000 newcomers next year, and around 100,000 in 2025"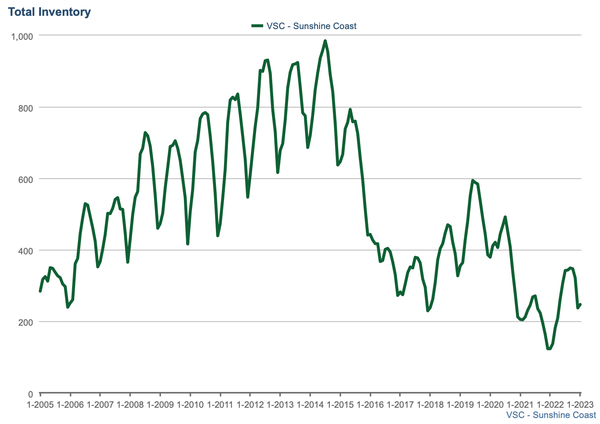 On the supply side, property for sale levels are still historical lows with only 2022 and 2021 having lower numbers of property for sale in January for the past 18 years. Coupled with low levels of new home builds, we foresee a potential "bottleneck" of consumer demand as there are not enough homes to go around.  
Buyers will still have strong negotiating power is 2023, but we expect to see a more balanced market by the beginning of the second quarter of the year as sellers adjust expectations and price more competitively.
At Manley, York & Associates, we understand that your home is your largest investment. 
We closely monitor the market to ensure our clients receive accurate and timely information about market conditions for each type of home and price range to help them achieve their goals when buying or selling a home. 
Email us 
or call us today at 604-817-7173 to find out what your home is worth in today's market and how our concierge service can help take the stress out of the buying or selling process.