After a year of declining prices, 2023 started off slowly but showed some signs of recovery.  Buyers cautiously entered the market to purchase while interest rates stabilized after a year of continuous increases.   While March and April are typically the peak time for sales on the Coast, the interest rate increase in January created a slower start and pushed the regular spring market into June.   The HPI Price Index rose slightly from $827,000 in January to $842,600 by June.  However this is still 14% lower than the peak in May of 2022 at $963,400.  
January - June Stats   2023 vs 2022
MLS HPI Price: $842,600 vs $951,000 (Down 11.4%)
Total Sales:  286 vs 426  (Down 32.8%)
Total Inventory: 407 vs 308 (Up 32.1%)
Sales to Actives Ration: .165 vs .18 (Down 9.3%)
 The summer months are typically less active than the spring, but usually have a steady supply of buyers due to vacationers falling in love with the area.  There tend to be less listings coming to market as sellers tend to turn their attention away from their real estate plans and focus on their summer holidays.  
This summer, however the Bank of Canada ended their rate-hike hiatus with a rate increase of .25 on June 7th and another .25 basis point rate hike on July 12, bringing prime up to 5%.  A 5 year fixed term mortgage is now over 6%.  The difference to consumer purchasing power has been deeply impacted.  A $600,000 mortgage has gone from approximately $2500/month to over $4000/month in just 1 year.    The long term impact to consumers has not yet been fully felt, however homebuyers who purchased using a variable rate, must be feeling the sting of the much higher costs of borrowing.   The immediate impact though is a further softening of the real estate market as sales slow and buyers reconsider their options as their price levels they once qualified for at the beginning of the year shift downwards.   Sales have slowed in July so far as buyers pull back and we anticipate that the price gains made in the late spring will be negated if sellers want to stay affordable.    
HPI Price with Changes to Interest Rates Jan 2022 - Jun 2023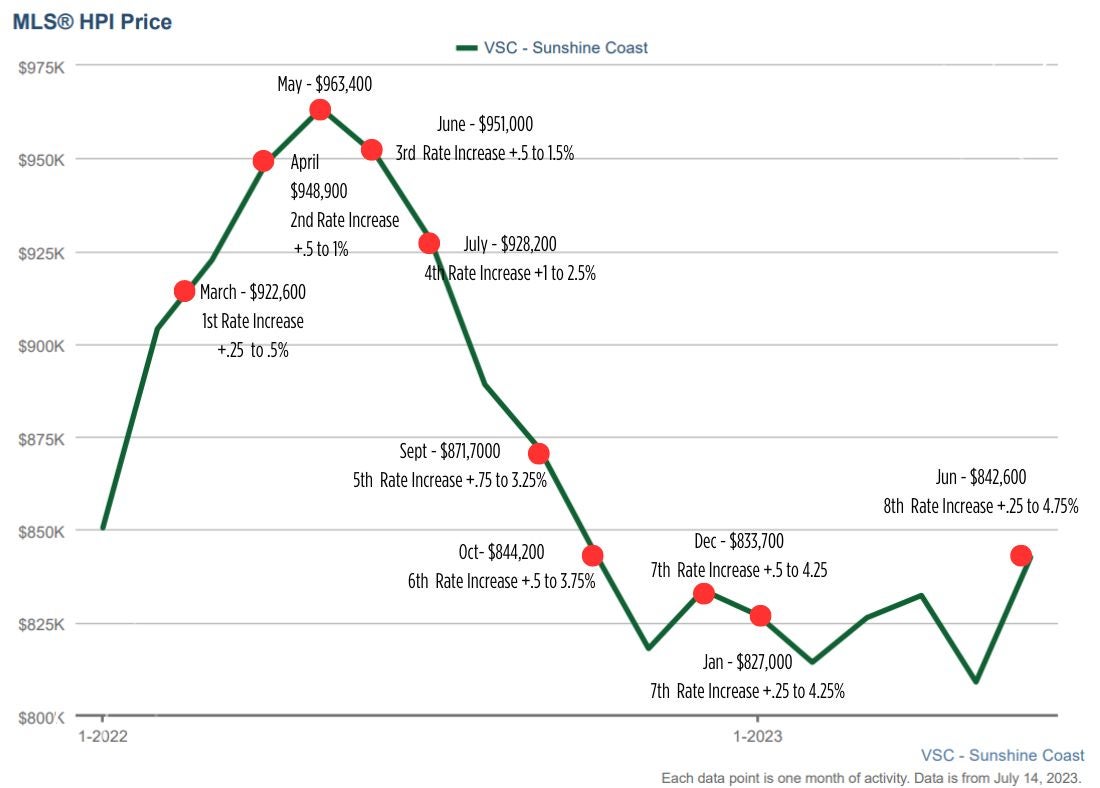 There are 18 sales registered so far in July, matching last year at the same time period however inventory is nearly 25% higher currently with 405 active listings vs 343 in July 2022.  
With uncertainty if there will be another rate increase in September, we anticipate that prices on the coast will soften over the summer and into the early fall.  If there is no rate increase, then the fall could see a bump up in activity.   Buyers considering getting into the market this summer could find some great bargains if they are savvy.  A short-term mortgage could be an option for buyers to be able to capitalize during this window and then refinance as interest rates are expected to be lowered slightly next year.  
For sellers listing their homes this summer and fall, patience and realistic price expectations will be beneficial.  With prices expected to soften, aggressive pricing strategies seen in hotter markets will quickly leave homes out of reach and sitting on the market for much longer.  
At Manley, York & Associates, we understand that your home is your largest investment.
We closely monitor the market to ensure our clients receive accurate and timely information about market conditions for each type of home and price range to help them achieve their goals when buying or selling a home.

Email us or call us today at 604-817-7173 to find out what your home is worth in today's market and how our concierge service can help take the stress out of the buying or selling process.